All you ever need to know on e-Procurement
Control and reduce your cost base must remain a priority to remain competitive. Amongst the levers to use, there is e-Procurement. Behind this expression, which summarizes the way a company will handle its buying and supply chain functions, there is a reality: your suppliers are the first partners of your development.
Purchasing and selling better, starts with better exchanges of information.
Download the white paper
The answers to your questions
How to digitalize purchasing management?

Is my business ready?

What are the benefits?

Is it a simple or complex process?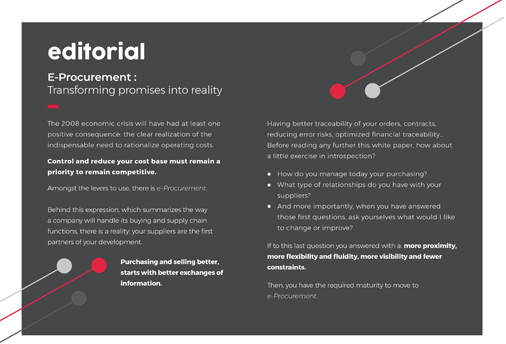 Summary of the White Paper
Edito
Customers/Suppliers: a common language for your entire ecosystem
Rethinking the supplier/client relationship
Managing your buying with e-Procurement
Expert Advice
A win/win solution
Undeniable benefits
Download
Fill out the form to download the E-Procurement White Paper.
Les informations suivies d'un astérisque (*) sont nécessaires au traitement de votre demande et sont destinées uniquement à AGENA3000. Vous disposez d'un droit d'accès, de rectification, et de suppression de vos données, que vous pouvez exercer en adressant une demande accompagnée d'un justificatif d'identité par e-mail à hello@agena3000.com ou par courrier postal à AGENA3000 – DPO, 88 Rue du Paradis CS 70508 - 49305 CHOLET - Cedex - FRANCE.
They might also interest you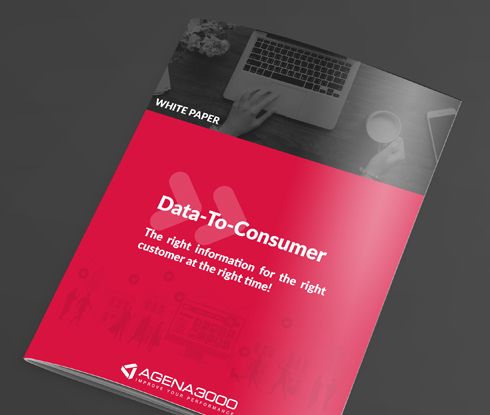 Data-To-Consumer: The right information for the right customer, at the right time!
Discover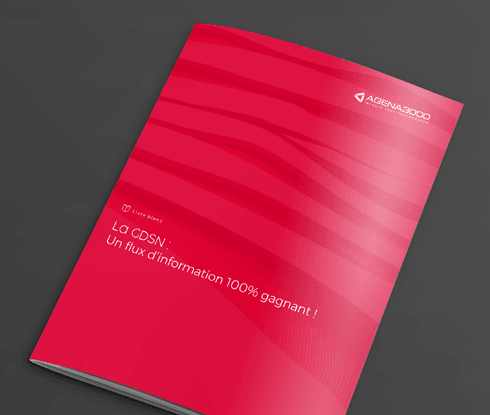 GDSN : an information flow 100% beneficial!
Discover
A propos d'AGENA3000
Spécialiste de la dématérialisation, AGENA3000 accompagne les entreprises dans leur transition digitale en proposant des solutions adaptées à leurs besoins. Forte de son expérience de plus de 35 ans avec les marques, les industriels et les distributeurs, AGENA3000 est un partenaire de confiance pour toute entreprise souhaitant réussir sa transition digitale.