All you ever need to know on GDSN
New realities are materializing for B2B players. And those who are shuffling the card desk are the consumers! All sectors are faced daily with new expectations from consumers.
GDSN is based on an international standard that uses, consumes and synchronizes data over the entire lifecycle of a product. GDSN and its e-Catalog are also the first step towards collaborative marketing that will allow you to stay in step with your B2C requirements (your customers) and your partners' ecosystem (B2B)!
Download the white paper
The answers to all your questions
What is GDSN?

Should my company get involved?

How to switch to GDSN?

How does GDSN work?

What are the benefits for my company?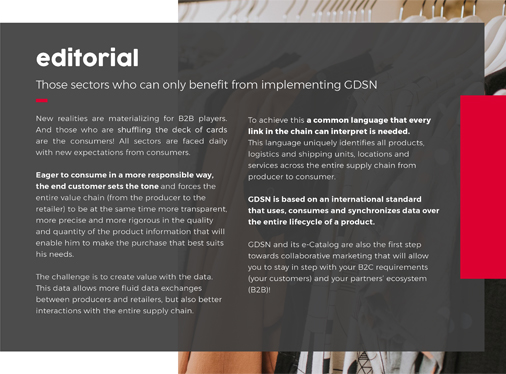 Summary of the White Paper
Editorial
GDSN: 5 key figures to understand everything
GDSN: user manual
Be GDSN by design
GDSN & PIM: the retailer's vision
GDSN & PIM: the manufacturer's vision
Download
Fill out the form to download the GDSN White Paper.
The information followed by an asterisk (*) are necessary to process your request and are uniquely destined to AGENA3000. You have a right of access, a right of correction, and of deletion of your data, that you exercise by sending a request by email to hello@agena3000.com  or by post to AGENA3000 – DPO, 88 Rue du Paradis CS 70508 - 49305 CHOLET - Cedex - FRANCE.
About AGENA3000
Specialized in dematerialization, AGENA3000 supports companies in their digital transition thanks to solutions adapted for their needs. With more than 35 years of experience with brands, manufacturers and retailers, AGENA3000 is a trustworthy partner for any company wishing to succeed in its digital transition.