You're looking for a new professional challenge ? You want to join a referent company with a strong development on the French market and which aims to become a major player at the international level ? For you, working is also feeling good about your company ? So, we want to tell you that you are at the good place.
AGENA3000 is constantly looking for new talent to strengthen its teams in France and abroad : IT Developers, Business Consultants, Technical Experts, Support help center, Salespeople ... the profiles we are looking for are varied.
Tunis - Open to telework
As part of the development of our subsidiary in Tunis, we are looking for a Software Quality Tester M/W on a permanent contract.
Learn More
Tunis - Open to telework
As part of its development, the Software Factory Division is recruiting a Software Quality Tester (M/W) for an internship and then a work-study contract in Tunis.
Learn More
Vous rêvez d'un autre poste ?
Nous sommes toujours à la recherche de nouveaux talents, alors n'hésitez pas à nous envoyer votre candidature spontanée !
Je candidate
Work at AGENA3000 ?
It's our people who speak it best !
Well-being
Employees benefit from a quality work environment that enhances an atmosphere and climate conducive to personal and professional growth.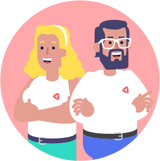 96% of employees
are proud to work for AGENA3000
Solidarity
The transmission of knowledge continues through the implementation of tutoring and in-house training. An integration course is designed and tailored to each individual so that the first steps within the company are a success.
Clélia
Sales Engineer, 4 years with the company
I joined AGENA3000 as a Sales Assistant. After 2 years, the company discovered the skills I had acquired and promoted me to the position of Sales Engineer. I would like to thank the company for its confidence and its desire to develop its employees.
Diego
Team Leader and Project Director, 6 years with the company
What I like in my job is the versatility that it requires. I love managing projects from the beginning to the start, because it means building, making decisions, arranging for the collaboration of other departments and bringing teams together around a common goal.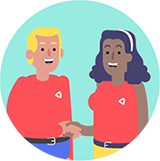 100% of employees
have good relationships with their colleagues