The Nutri-Score is more and more present in store shelves and is easily spotted with its design combining letters and colours on food produce packaging. But what is its role? How does it work and which products are concerned? Insights.
Supporting consumers in choosing their food
Lost in the face of the nutritional information on food packaging, it is complex for consumers to make informed comparisons and choices. Faced with this observation, Santé Publique France, at the request of the Directorate General for Health, has called on manufacturers, distributors, consumers and scientists to find a solution to this problem. Conceived to help consumers to eat better by facilitating their choices at the time of purchase, the Nutri-Score is part of the law to modernise the health system of January 26, 2016, by proposing a brand new labelling system based on the nutritional composition of products.
The Nutri-Score has a clear objective: to enable consumers to make the best choice when shopping and to make it easier to "eat better" every day.
A logo designed to be understood by all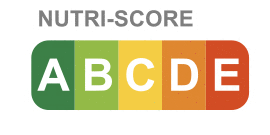 Based on a simple and immediately visible score, the Nutri-Score combines letters and colours for a better understanding of the nutritional quality of food products. Clearly, products are rated on a scale from A to E, with the healthiest products rated in category A and the least healthy in category E. The Nutri-Score is a particularly interesting tool to help consumers choose between several products in the same category (cereals, biscuits, sauces, ready meals, etc.).
The Nutri-Score calculation method is based on the analysis of 100 grams of product, taking into account the nutrient content and the ingredients to be favoured or limited. Some nutrients such as fibre and protein, but also foods such as vegetables and fruit improve the product's score, while saturated fatty acids, sugar and salt decrease the score. In order to take into account the specificities of each product family, the methods for calculating the Nutri-Score have been adapted. This ensures that the consumer can compare two products from the same family in the most accurate way possible.
Nutri-Score: optional or mandatory?
Today, the foods concerned by the Nutri-Score are processed and pre-packaged foods (except for aromatic herbs, teas, coffee, yeast...) as well as alcohol-free beverages. Unprocessed products, such as fresh fruit and vegetables, fish, and products whose largest side has a surface area of less than 25 cm² are not affected by the Nutri-Score..
The Nutri-Score will officially be introduced in France in 2017, in Spain in 2018, and in Belgium in 2019. However, the Nutri-Score is not – to date – an obligation for manufacturers. Its addition to products is therefore an optional approach, based on the voluntary participation of food manufacturers. It should be noted that in view of the interest of the Nutri-Score, many European consumer associations have expressed their interest and asked the European Commission to make it mandatory on food packaging.
On 21 February 2019, the National Assembly (French Parliament) voted in favour of making it compulsory to display the Nutri-Score on all advertising media. Advertisers therefore have until 1 January 2021 to adapt and display the logo on their advertising displays.
The Nutri-Score is a genuine purchasing aid and is very popular with consumers. Don't forget to include this information for consumers in your PIM product descriptions, so that it can be distributed to e-commerce websites and to your ecosystem of partners.
And you, where do you stand with the Nutri-Score?